Number of homes selling within a week hits ten-year high
Considering the lockdowns of 2020 you'd be forgiven for thinking it would have slowed down transactions of UK residential housing sales, well think again.
105,630 property sales of a residential nature took place in October 2020, this equated to an 8% increase on 2019 and was 10% higher than September when considering HMRC data. Net mortgage lending stood at £4.3bn up to October and approvals of mortgages were increasing at a rate not seen since 2007.
As we now pass the midpoint of quarter 4 in 2020 various businesses have recorded their own figures to capture this positive phase, showing house price rises throughout September and October. Further analysis of this would show the rates of growth slowing as the year comes to an end. Stamp duty relaxation of the rules has most likely had something to do with this positive market position although please bear in mind this ceases in March 2021 and it is likely that we will see the growth rate of house prices slowing and numbers of sales declining slightly.
Inquiries Remain High
To counter any particular negative trends buyer inquiries are still remaining high, recent surveys of homeowners also suggested a positive attitude when it came to their thoughts on house price valuations rising over the next few months. Another statistic to reflect on is that properties in progress of sale ie actively in a chain is 50% higher than it was this time in 2019. That equates to approximately 418,000 home sales and a valuation of £112bn. With such volumes of property in the system, we have to remember that this will put a strain on processing house sales in terms of lenders, agents, and valuers. It is likely that durations for housing sales to complete will therefore grow. As a rough guide, house sales to completion are normally estimated at 100 days.
So, as we approach the end of a turbulent year for many, the residential sales housing market has had many positives to talk about. It remains in a vibrant state and volumes of those active within the system suggest plenty of transactions are still to be completed as we enter Q1 of 2021. We do need to keep an eye on a few things such as the agreements reached with the EU over Brexit, additionally some of the government incentive schemes such as Stamp Duty relaxation rules and the furlough incentive schemes concluding in March. We must continue to look at the statistics and trends being generated as we near these milestones and see what the numbers are telling us.
Keep reading Crowd to Live to get your latest property news and build your awareness of what's happening in the market place.
What are the headline figures?
The number of homes selling within a week of coming to market is up 125% compared to the same period last year and is the highest number recorded over the past ten years
Across Great Britain, the hottest market is in Scotland where a third of all three-bedroom semi-detached homes sold by agents took a week or under to sell (32%), compared to 20% in 2019
The slowest market is in London where one in nine homes sold within the first week, though this is up from one in 20 in 2019
We analysed over 200,000 properties that sold between 8th July and 31st August to reveal the impact of the temporary stamp duty holiday
What does this mean for your home?
Proportion of all properties that sold within a week, nationally by property type: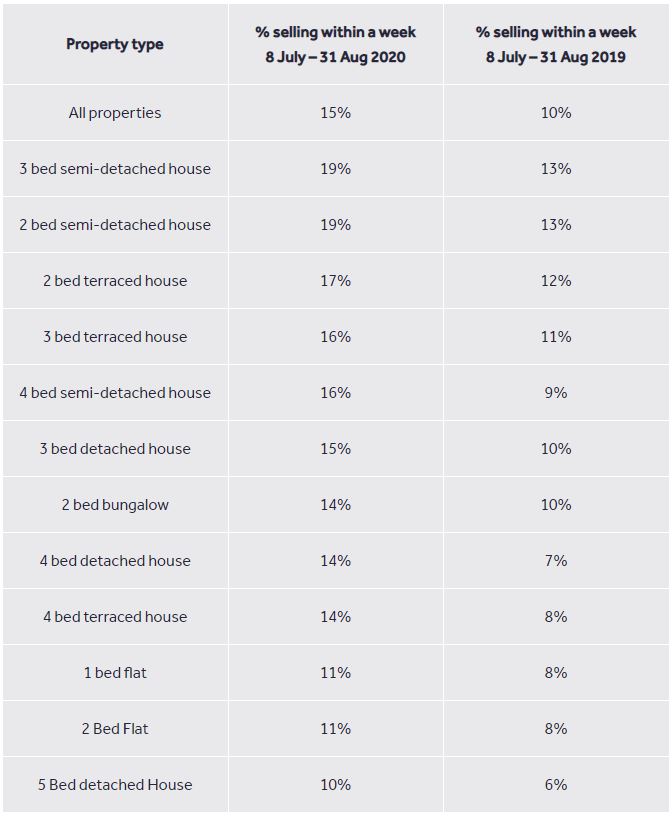 READ MORE: Explore the UK's most expensive villages